boy's and girl's guide books
inspire - motivate - contribute
sharing is good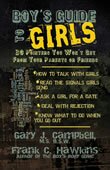 Order or Buy from:
Amazon.com
Barnes & Noble
boy's guide to girls
What's the best way to tell a girl you like her? What does it mean when a girl teases you? Should you go to the school dance even though you can't dance? Why bother with girls at all when there are so many other things to do?
Coming of age is an important milestone in every boy's life. The Boy's Guide to Girls talks to young men ages 10 and up in their own language, guiding them through the maze of emotions, peer pressure, and misconceptions that surround girls and dating. The Boy's Guide to Girls is filled with solid advice and information that enables young men to make good decisions and handle themselves around girls now and in the future. The lively upbeat text is interspersed with quick personalized quizzes to build understanding and self-confidence. There are individual chapters about these important topics and more:
Crushes
Getting to Know a Girl
What's She Thinking?
What Girls Want
How to Say, "I Like You!"
What If She Says "No?"
Unattainable Girls
Are You Ready?
Girl Crazy. Who, Me?
Tell Me the Rules
Dances and Parties
Talking To Your Parents
Going Steady
What to Do When You Go Out
Getting Close
Dealing with Problems
How to Break Up
Getting Dumped
How's It Going?
review
5 stars: The ABCs of Girls and Dating. March 5, 2012, by Keagan Pearson, FatherhoodFactor.com
There are very few things in the life of a man that are more daunting than understanding women. And although you've grown more capable as you've gotten older, they are still perplexing.
Now think of it from a young boy's perspective. You take away the years that have developed maturity and emotional control, and you are left with a pretty horrifying dilemma. Couple this with hormonal changes, and as a dad, you might begin to consider investing in restraints. However, I can assure you there's a better way.
Consider Boy's Guide to Girls, a book to guide young men through the turbulent "boy meets girl" phase of life.
First, let me preface my comments with an intentional parenting sidebar. I suggest reading Boy's Guide to Girls yourself before giving it to your son. That may seem like a no-brainer, but doing so will help you understand the book's message allowing you and your son to connect when the inevitable questions arise.
Now for the details: Boy's Guide to Girls is written for young men 10 and up. Each chapter addresses a new topic. For example:
Getting to Know a Girl. Show genuine interest in the opposite sex. This means that you actually care about their likes and dislikes, their dreams, their hobbies. This is a valid pursuit for us married guys, too.
Are You Ready? This chapter contains a thoughtful set of situational questions that will help a young man determine whether he's ready to dive into the girl-boy scene. After all, there's plenty of time and certainly no reason to rush things if they're not ready.
Talking to Your Parents. Boy's are coached on how to approach their parents when faced with things like dating and parties. Again, there are some really good tips here. The book urges honesty and respect and a willingness to see things from the parent's perspective. Likewise, we dads could use these reminders when we are on the receiving end of a request like this.
Girls and Social Media. This is probably a conversation that you will have with your kids prior to dating age, but it lists some valid do's and don'ts specifically for young men living in the digital age.
Dating Activity "Do's and Don'ts." Going for a walk in a scenic place or getting a bite to eat…good. Making her play rugby with you and your buddies…maybe, maybe not. The authors also make a valid point here…it's less about the activity and more about the time spent together. Once again dads, you should put this away in your memory bank.
There are 25 more chapters of varying scope and purpose: some light-hearted and some heavy and meaningful. For me personally, Boy's Guide to Girls:
Encourages boys to focus on someone other than themselves. Yes, there are areas of inward focus, but the book does a great job of pointing out that it's not always about them.
Discusses ideas and attitudes to enhance interpersonal skills, especially with the opposite sex.
Encourages respect, honesty and open communication – all traits dads would long for their sons to know better.
Provides an abundance of practical tips and advice – it's not just a theoretical parsing of words.
As a final thought, you more than likely remember how treacherous your adolescence seemed at times. This book will help your son or grandson grow up with a little less heartburn and a lot more success – at least when it comes to the opposite sex.
---